5 Automated Email Workflows to Boost Your ROI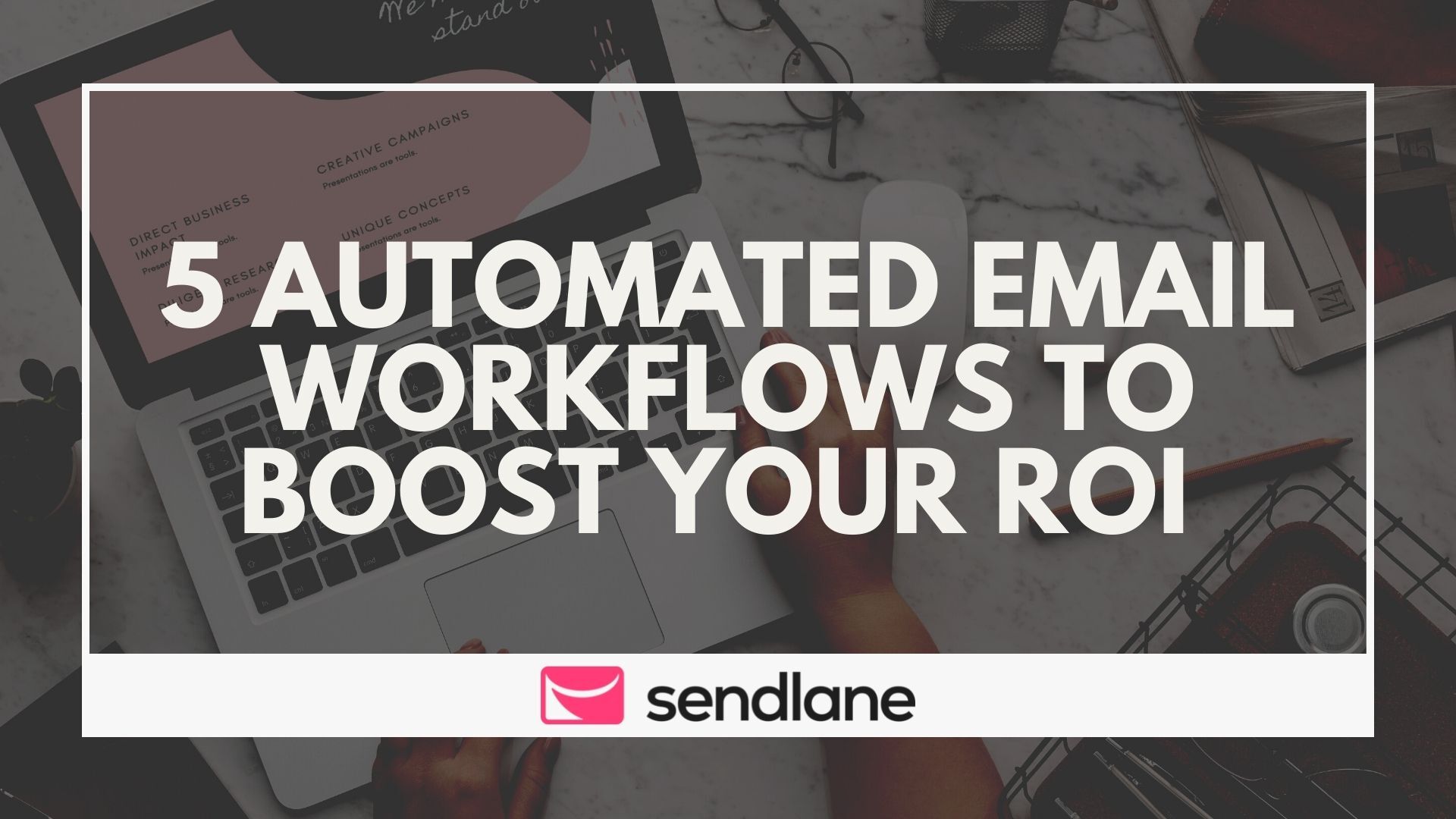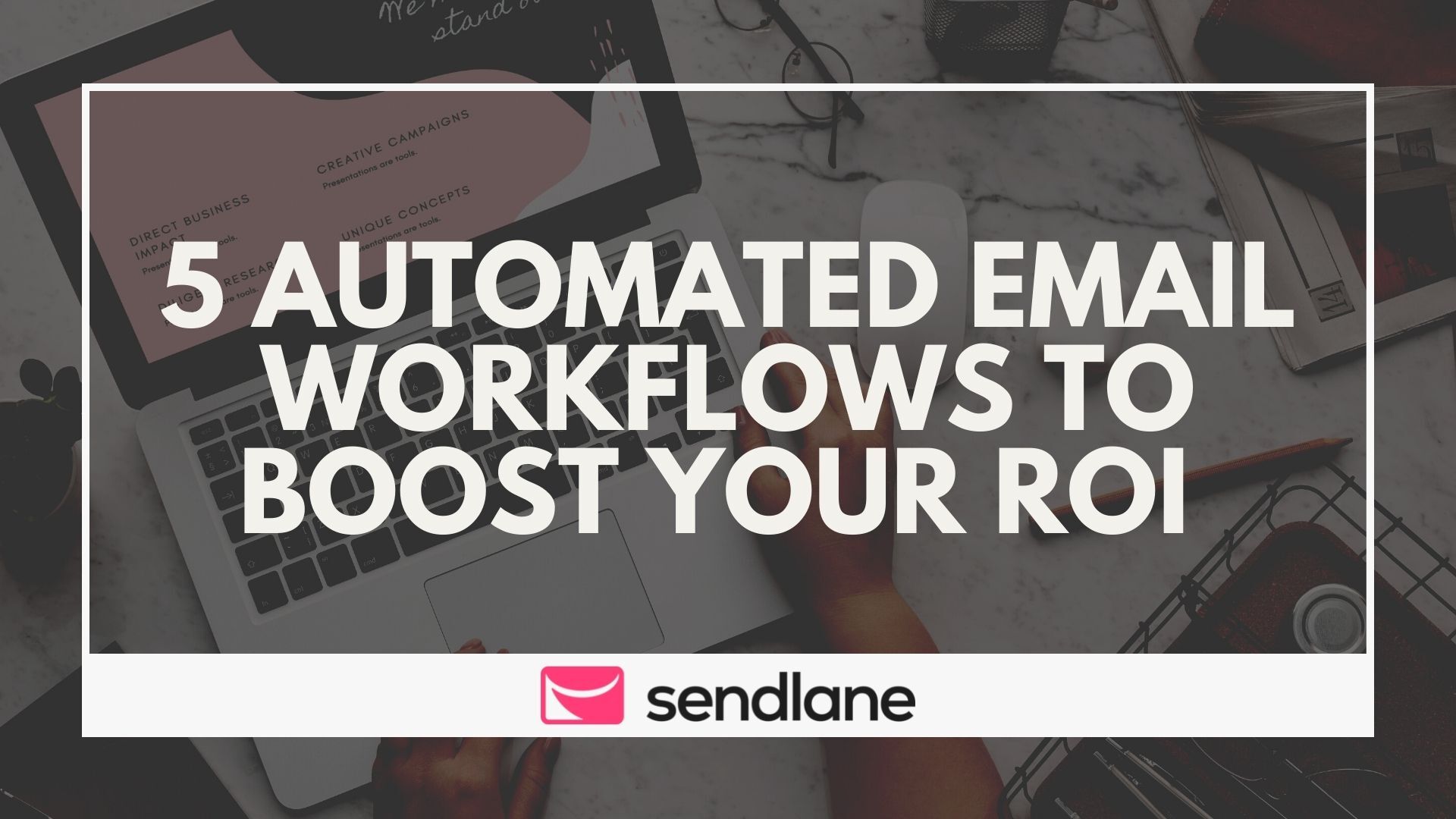 Email is an essential tool in most people's lives. In fact, about 319.6 billion emails were sent and received every day in 2021.
That's 319,600,000,000 emails. Daily.
Email is also a proven marketing tool, but all of those zeros above mean that creating and sending a single email campaign to your list is not enough.
You have to think strategically. And you have to get into your customers' heads.
To leverage email marketing effectively, you'll need automated email workflows. With automated email campaigns, you'll send the right messages to your customers at the right time — and make sure they get sent in the first place.
Why Do I Need Automated Email Workflows?
First, what are automated email workflows?
Automated email workflows are sequences of pre-written emails triggered by a customer's action or subscriber's behavior.
For example, if a shopper opts in to your email newsletter, you can send her an automated 'welcome' campaign that begins after you verify her email.
Marketing automation workflows are useful because they:
Save time and effort
Ensure that critical email campaigns are sent
Connect you to customers in a unique way
Help you build relationships with customers
If that's not enough, automated email workflows also get proven results at volume.
These campaigns can get as much as 70% higher open rates and 152% higher click-through rates than generic email newsletters.
If you've been sending emails to customers manually, automating these actions can have a profound impact on your eCommerce business and free up more time than you thought you could have.
5 Automated Email Workflows to Send to Customers
Let's look at some email workflows you can create and start sending to customers automatically.
1. The Welcome Email Sequence
An automated welcome email sequence is a tried-and-true email marketing standard, and for good reason.
The welcome sequence gives you time and space to introduce yourself and your brand to new customers, show them the content they'll receive in your emails, and much more.
Further, these emails can be customized to fit various actions like a newsletter sign-up or a new purchase.
Plus, welcome emails tend to have a 50 to 60% open rate, which is much higher than other marketing emails.
Automation tools like Sendlane have event-based automation that makes it easy to determine when to send these emails.
All you have to do is build the campaign, choose when you want to send the email after the trigger action, and let the tool handle the rest.
This welcome email from Riley is a great example:
This email uses a "less is more" approach and welcomes new shoppers with a discount as a bonus.
A simple, short-and-sweet email like this can make a great first impression on subscribers and prospects.
How to Make it Your Own
Again, your welcome email sequence is an introduction to your brand. Tell subscribers who you are and what they should expect from you.
A few things you can include in your welcome emails are:
Your brand's story
Your mission and values
Testimonials and other social proof
Links to existing content and social profiles
Like the email above, you can also include a coupon or free shipping code if your brand is set up to leverage those opportunities. Either way, be friendly, welcoming and provide enough perceived value to keep subscribers engaged.
Welcome email sequences in Sendlane usually look something like this:

Of course, this is just one example — the templates and sequences are endlessly customizable for your brand.
That said, you'll want to send the first email immediately after a user subscribes or makes a purchase to confirm their action.
2. Cart Abandonment Email Sequence
Why do customers abandon their carts? There are a lot of reasons, but a few common ones include:
Not ready to make a purchase
Using the cart as a research tool
Waiting for a sale
Confused by the checkout process
The list goes on and on. And since 70% of shoppers, on average, abandon their carts on average at checkout, this is an issue for eCommerce business owners and marketers everywhere.
And guess what? One of the most effective ways to reclaim that lost revenue is with abandoned cart emails.
Cart abandonment emails make it easy for shoppers to complete purchases by putting the products they added to their cart in front of them again.
If you're trying to scale, sending these emails is basically impossible without email automation workflows.
If you're using a robust platform like Sendlane, you can track and identify distracted website visitors who didn't finish their purchases. And because you know who they are, you can send an automated message that encourages them to complete that purchase.
Adidas has a strong cart abandonment email flow, as this email demonstrates:
The messaging starts out with a tongue-in-cheek joke (shoe pun intended), but the email really draws you in visually with the large product photo.
Adidas also supplements the call to return with more images and three testimonials about that specific product.
How to Make it Your Own
Cart abandonment sequences usually include four or five emails to bring customers back to your site to complete their purchase.
A few common components of abandoned cart flows are:
Personalization. Display the product left behind with a bold CTA.
Clarity. Clear, easy-to-understand copy that tells customers exactly what to do next.
Scarcity. A sense of urgency, which you can create with a limited-time deal or limited-stock notification, will motivate shoppers to take action.
Social proof. Reviews, use cases, and user-generated content can convince shoppers to spend their hard-earned money on your products.
Incentivize. Incentives can be enough to send customers back to their carts. Drop a small discount to give shoppers that last nudge to purchase.

Finally, be sure to include a goal for your abandoned cart automation workflow. That way, if a customer does convert, the automation will stop sending emails in that particular sequence.
(And hopefully, the customer will have triggered the "post-purchase" email sequence — more on that later.)
3. The Lead Nurturing Sequence
Email is a great way to boost sales, increase conversions, and showcase new products or services. But it can also deliver value to your customers in other ways.
That's what the lead nurturing sequence does. This automated flow keeps customers who may be in a different part of the customer journey engaged. Your brand stays top-of-mind, and you can educate prospects on your products and offers.
You can even create different nurturing sequences that cater to a variety of customer interests. Segmenting your audience according to preferences or demographic information is a great way to maximize ROI with email automation.
Lead nurturing sequences can also be fun! There are so many ways to set them up, so it's important to create one that is unique to your brand.
For example, this email from Everlane tells the story behind their men's clothing designs:
This email offers simple but engaging information behind Everlane's offers — with conveniently placed CTAs for each product.
This is relevant content for their audience and positions Everlane as a thoughtful resource for what might otherwise seem like nondescript men's clothes.
How to Make it Your Own
Every lead nurturing email sequence should be unique. The design and content should reflect your customer's journey and what they need right now.
Further, these emails should provide value and avoid pushing sales offers or "Buy Now"-style action steps.
Consider the following topics for your own lead nurturing workflow:
Product recommendations
Featured blogs or authors
Live broadcasts/webinars
Product sneak peeks

Again, these emails should be dynamic, engaging, and personalized. The customer should feel like you understand what they need and are interested in the same things.
When you're creating this sequence, generate what feels like the right amount of emails for your brand. Don't bombard your prospects, and focus on providing consistent value. Do that, and you'll earn a regular spot in their inbox.
4. Post-Purchase/New Customer Email Sequence
Experienced business owners know that customer relationships don't stop when purchases happen.
Engaging with customers after the sale is just as important as before they buy.
Post-purchase email sequences present more ways to connect with customers and eventually bring them back as recurring customers.
Examples include follow-up surveys that ask customers to rate their experience with your product or service or emails that ask if they have any questions about their purchase.
These touchpoints can build relationships, and that will pay off for your brand later on.
Hubspot Research found that 90% of customers will probably make a repeat purchase from a company that offers excellent customer service.
And as more companies prioritize customer acquisition over retention, smart businesses and marketers can leverage this opportunity with automated email workflows.
Here's an example:
Customers receive this automated email from Target shortly after they make a purchase.
The email asks for a review, showing that the company values their opinions. It also provides a link for support if the customer has had a problem, showing that they still care about the customer experience after the purchase.
These are simple "wins" that can help to personalize interactions at scale.
How to Make it Your Own
Like the welcome email flow, new customer emails are great for building a customer relationship. The way you communicate with new customers will have a major influence on whether or not they become repeat buyers.
Even a simple "Thank you for your purchase!" will go a long way. Your customers will feel seen and appreciated.
If this is your first new customer email sequence, try structuring it like this: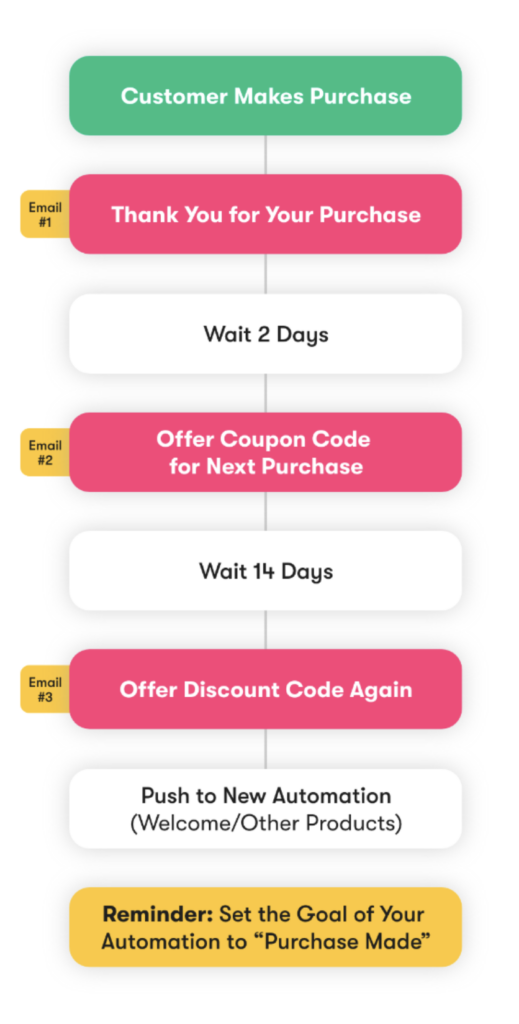 Personalizing these emails and leveraging your brand identity is still important at this stage.
If sharing a discount after two days isn't right for your brand, for example, try providing value another way and track your metrics to see what types of offers yield the best results.
But whatever you end up offering, remember to make your customers feel like part of your community with these emails.
5. Automated Email Workflows for Re-Engagement
Despite your best efforts, customers will drop off.
After all, customers receive countless emails per day, and a few subscribers are bound to lose interest or fall by the wayside.
But don't lose hope. You can get back on their radar with an automated re-engagement email sequence.
Re-engagement email sequences help you:
Reduce customer churn
Increase sales
Bring back inactive customers
Re-engagement sequences are also a good opportunity to audit your email lists and make sure they're up-to-date and organized effectively.
If you do create a re-engagement workflow, you'll want emails like this one from MeUndies:
This email projects a sense of confidence in the content and invites the recipients to share in that confidence. Reintroducing the brand in this way highlights the positive outcomes of a purchase without being pushy.
By providing value without pushing a product, you can ease customers back into your community.
How to Make it Your Own
This sequence hinges on being warm, welcoming, and encouraging. To re-engage with customers, you have to make them feel good about coming back.
With that in mind, emails that are concise and attention-grabbing usually do the trick. A unique discount or offer can also help as an incentive.
Try setting up your automated re-engagement workflow with this template: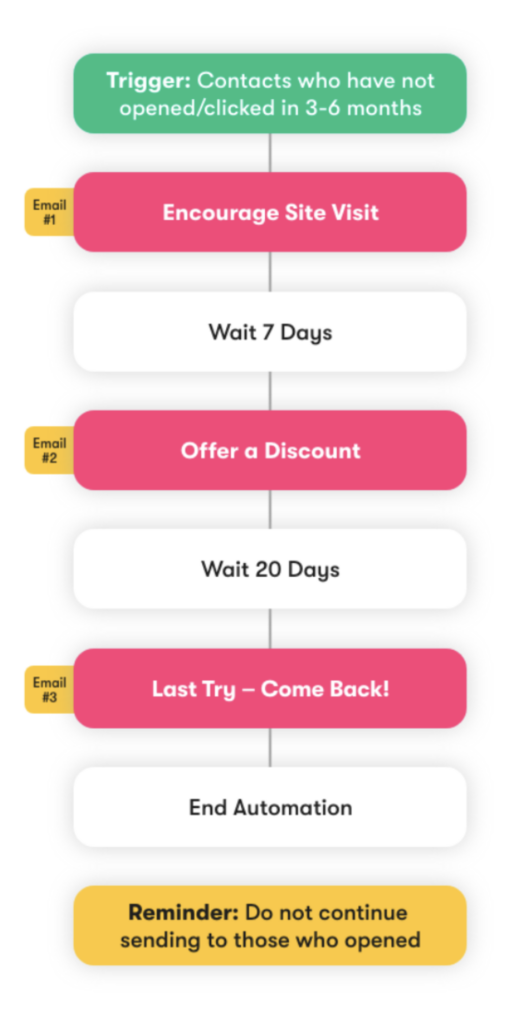 If a customer still doesn't return after a few emails, it's probably time to scrub them from your list. You're better off focusing on customers who are actively interested in your product or service and generating new leads.‍
Use Automated Email Workflows For an ROI Lift
Email automation is like magic. Combined with marketing, your automated email workflows can increase sales, foster engagement, improve your KPIs, and much more.
The five flows above can do a lot of heavy lifting for your business. And by automating them, you can use them as the foundation of your larger email marketing strategy.
If you'd like help with your automated email workflows, give Sendlane a try! Sign up for your 14-day free trial and start today.