How "Less is More" Email Marketing Campaigns Lead to eCommerce Wins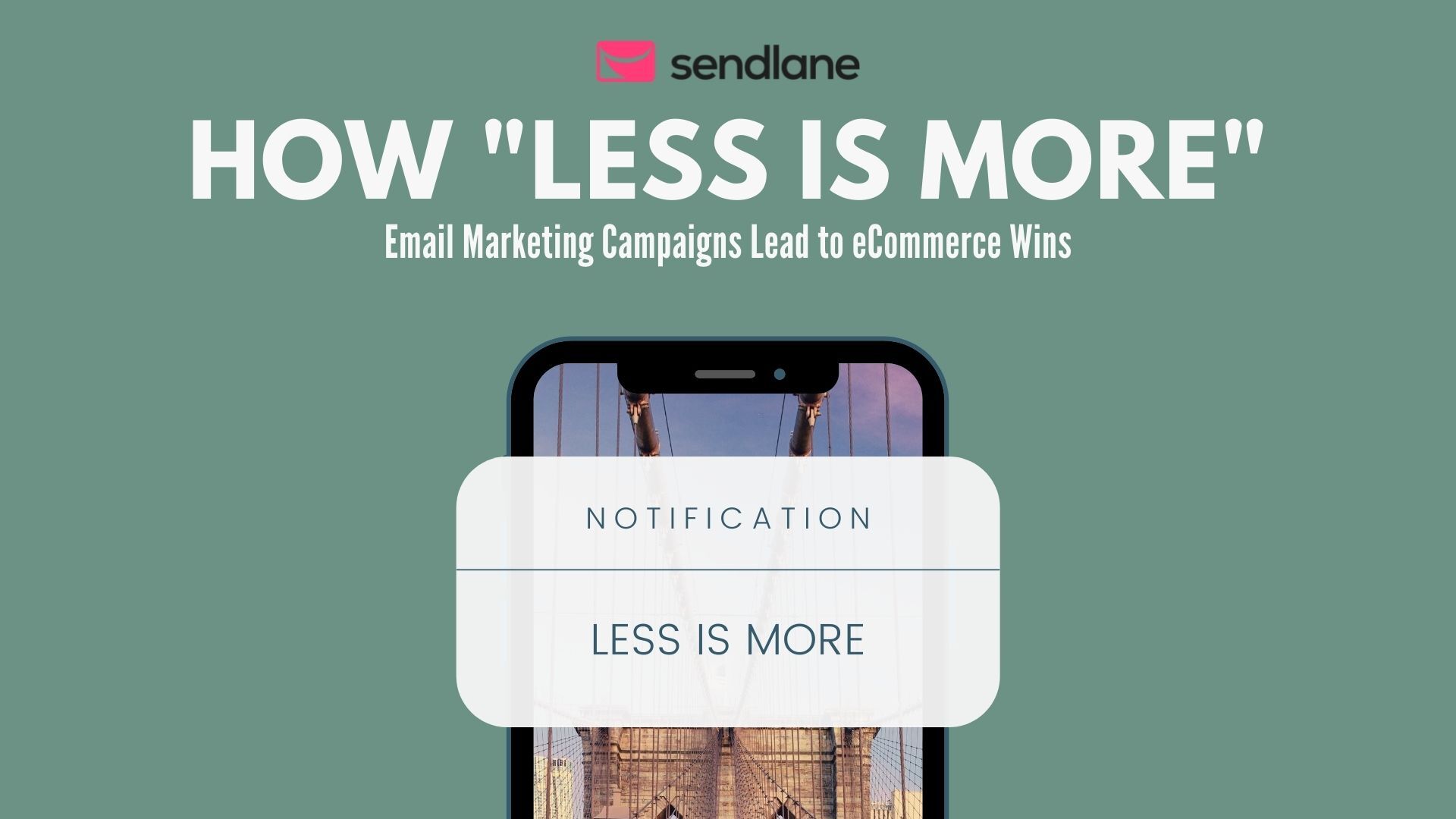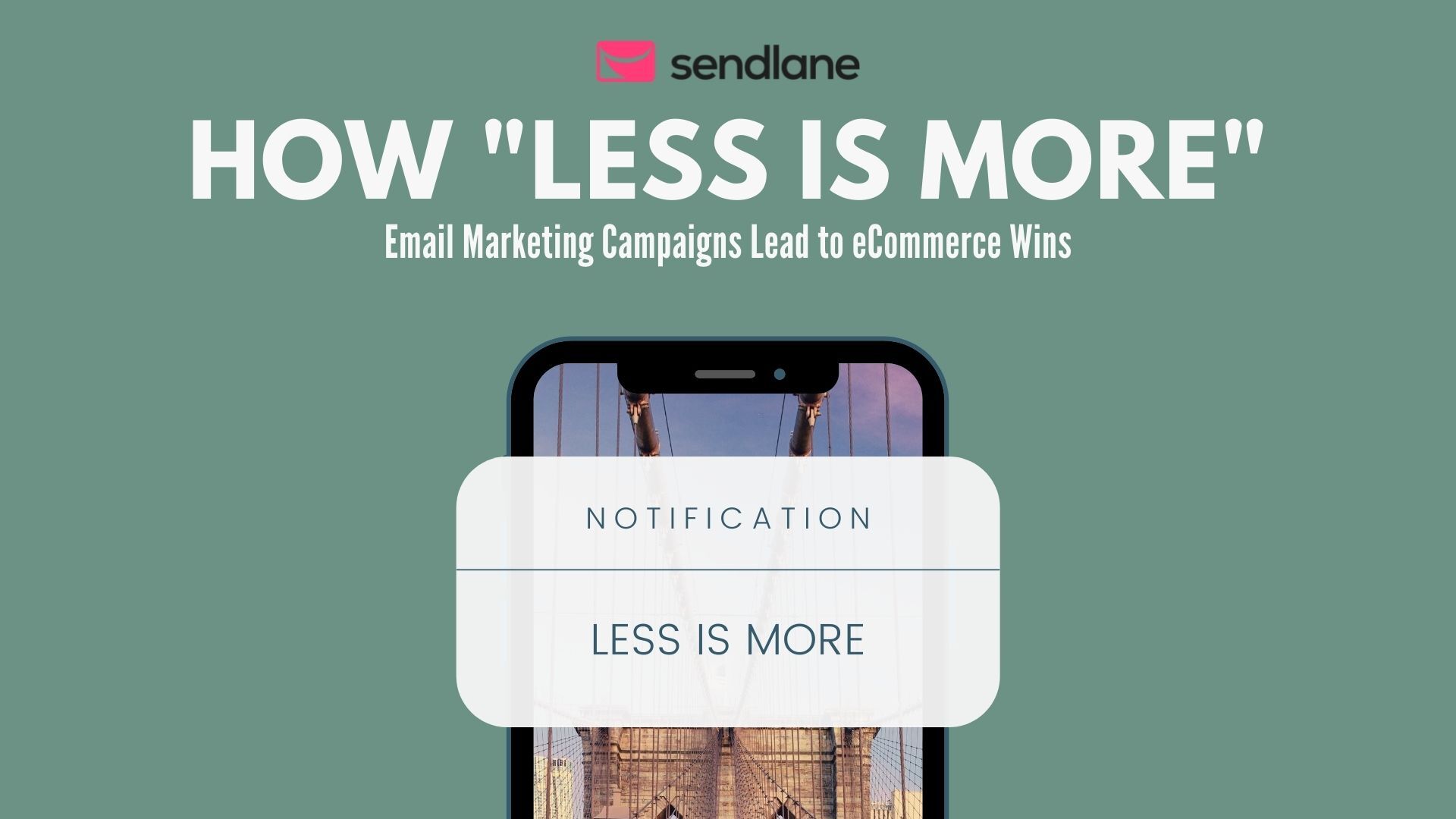 Most of the iconic marketing campaigns in history are devastatingly simple.
Apple's "Think Different." Nike's "Just do it." Even "Got Milk?" says everything it needs to say in less than 10 characters.
There's a good chance that your marketing emails could also benefit from a "less is more" mentality too.
Yes, it's nice to drop a well-designed and brand-forward bit of marketing into readers' inboxes, but the ability to craft a minimalist message is even more important. If you can do that, you can drive subscribers to take action without relying on templates or tricks.
Why "Less is More" Matters
You might already know that email marketing ROI consistently outperforms other marketing channels — and has for a long time. But before modern drag-and-drop editors, automation, and segmentation, simple messages with text and a single image were more than enough to convert the right audience.
In other words, people clicked back then. And if your emails use these basic building blocks effectively, they'll click now too.
Further, research by Litmus found that users read more emails are on mobile devices than on desktop computers today. Clear and easy-to-consume messages are crucial for mobile readers who aren't interested in searching through an email to find the relevant information.
With all of this in mind, the next question is simple — how do you build a "less is more" email campaign that actually works?
3 Ways to Create Email Campaigns That Sell
Email marketing strategies always have the same basic components.
You need an interesting subject line that gets your audience to click. Inside, you'll need professional content, including images and graphics. And a promotion or an interesting story to incentivize the next step.
But just because you have the ingredients doesn't mean you know how to bake the cake, right?
Use this recipe to write effective "less is more" emails, starting with…
1. A Short & Sweet CTA
Calls-to-action (CTAs) are the crux of any marketing strategy because they tell your audience what to do next.
CTAs are arguably the most important part of any campaign, and not just because including one can increase click rates by almost 400%. How will your audience know where to go, what to do, or how to buy without a call to action?
And the best CTAs, like the best emails, are short and sweet. A simple message like "shop now" or "take a look" can be powerful, as Brother Moto does here:
2. Automate Your Emails
The most effective email campaigns happen automatically in the background of your ongoing marketing campaigns.
User actions and events trigger these emails, which makes them more meaningful when they reach a customer's inbox. But only one in five marketers are using automation in their email marketing today, even though tools like Sendlane make building automated email funnels easier than ever.
With templates and pre-built sequences, you can create email campaigns to welcome new buyers or encourage shoppers to return to their abandoned carts with just a few clicks.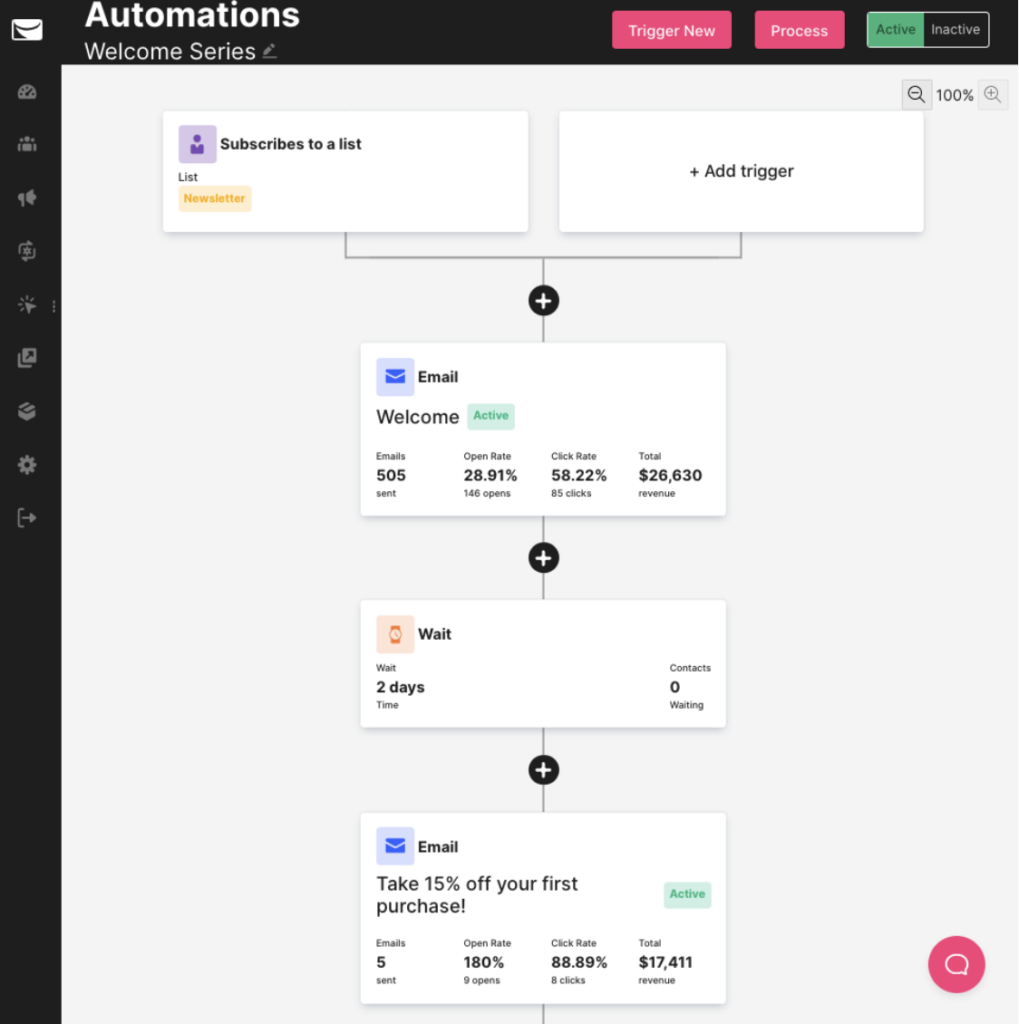 Creating a funnel with the automation builder in Sendlane only takes four steps:
Settings: Name your automation and choose a trigger to use
Audience: Decide what list or audience segment will go through the funnel
Content: Create dynamic emails that will sell specific products
Activate: Publish the automation to funnel contacts through the sequence automatically
Pro Tip: Learn how automated email campaigns can help you supercharge sales and engagement from the practical examples in this guide.
3. Target user behavior using segmentation
Sending the same email to every person on a list won't get you the results you want.
Studies show that email marketing metrics ranging from open rates to revenue and leads all improve with segmented campaigns.
But email campaigns for specific demographics or audiences can be extremely time-intensive if you create them manually.
If you want your email marketing campaign to succeed (and who doesn't?), you'll need to target user behavior and segment your audience with user data like:
Demographics
The date they joined your subscriber list
Buyer behavior (like previous purchases or link clicks)
Geographic location
With the right tool kit, like Sendlane's advanced segmentation functions, you can target niches like repeat buyers and users who haven't shown recent interest in specific messages.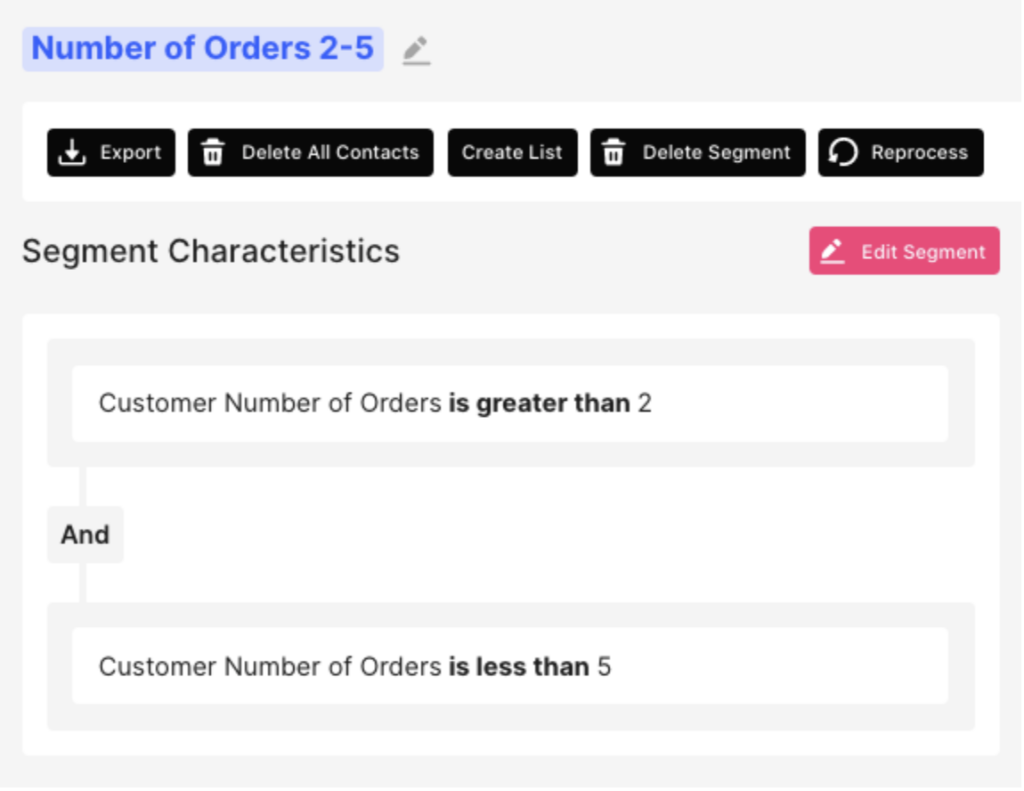 ‍When you have an email marketing campaign ready to go, you can even target audience segments who haven't opened any emails so far to try to win them back.
5 Examples of "Less is More" Marketing Campaigns
Lots of brands are already using the "less is more" mantra in conjunction with the tactics above. Here are a few examples:
1. Keep the Message Simple
We've mentioned how important it is to keep things short and sweet, but it's worth repeating that this lesson applies to every email you send to your customers. If you're offering a discount or just showing your appreciation, this principle will always make your campaigns more effective.
That's one of the reasons we love this email campaign from Under Armour:
Why it Works
This short and sweet email still provides personalization with the "Shop Her" and "Shop Him" buttons for each product.
And because Under Armour says so much with so little, they've created room to market their products with striking product lifestyle images.
This is a great way to appeal to would-be buyers while keeping the focus on the offer.
2. Mastering "Less is More"
Resy's minimalist approach to marketing makes this email work wonders.
You know that the audience is already familiar with the brand based on the copy, and the brief text is all about building trust:
Why it Works
The trust indicators jump off the page in this email — in fact, "trusted" is the biggest word in the headline. Other relational examples in the (short) copy include "your city," "added context," and the "show me the way" call to action.
3. Simplify with Sections
It can be easy to get so caught up in the possibilities of a marketing email that you lose sight of what makes email work in the first place.
Email started out as a way to send digital messages to each other. And email campaigns that use traditional marketing techniques like strong colors, simple copy, and striking images can still win customers over today.
Take this campaign from Starbucks:
Why it Works
Email campaigns like this use short and snappy text to do the heavy lifting.
Even though the email includes multiple offers and callouts, each part is crafted with "less is more" in mind. No section has more than two sentences of body text; different colors and white borders clearly delineate each row.
The vast majority of Starbucks' audience already knows what they offer, so using emails like these to highlight specific products and deals can support customer retention and increase brand loyalty.
4. Let the Product Images Speak For Themselves
Let your product images do the talking if you want to test an even more radical "less is more" approach.
Striking visuals and negative space are a great way to draw visual interest and keep emails engaging.
That said, if you're going to rely on visuals, make sure that your message and CTA stand out and are easy to consume.
This example by Warby Parker does just that:
Why it Works
While the glasses are clearly the star of the show here, the deep blue CTA button and row at the bottom draw the eye naturally to where the next steps happen. And the white space around the images will keep people scrolling down to the end.
5. Use FOMO to Bring Customers Back
Stetson leverages a combination of "less is more" and the fear of missing out (FOMO) in this cart abandonment email:
Why it Works
On the surface, this doesn't seem too different from other abandoned cart emails.
It reminds the customer that the product is still available and provides a clear CTA for completing the purchase.
What makes this campaign stand out, however, is that the offer isn't pushy or desperate. Stetson knows that the customer is interested and that the product is high-quality, so the only sense of urgency comes from the "while supplies last" copy.
They have to remind the potential buyer that the product is still available and let FOMO do the rest.
This email basically says, "you're nearly done; what are you waiting for?" without overselling. Seems about right for a brand built on cowboy energy.‍
Build "Less is More" Email Marketing Campaigns Effectively
At Sendlane, we know that marketers need to refine their email strategies — especially as the holiday season kicks into high gear.
From simple messages to more complicated emails and beyond, today's brands and sellers need a whole library of messages to engage with their audience segments and attract new subscribers.
Try using Sendlane to experiment with new messages and test the less is more approach. Combining minimalist emails with the right automation solution can do wonders for your bottom line!