Why Organic Content is the Best Marketing Fuel for DTC Brands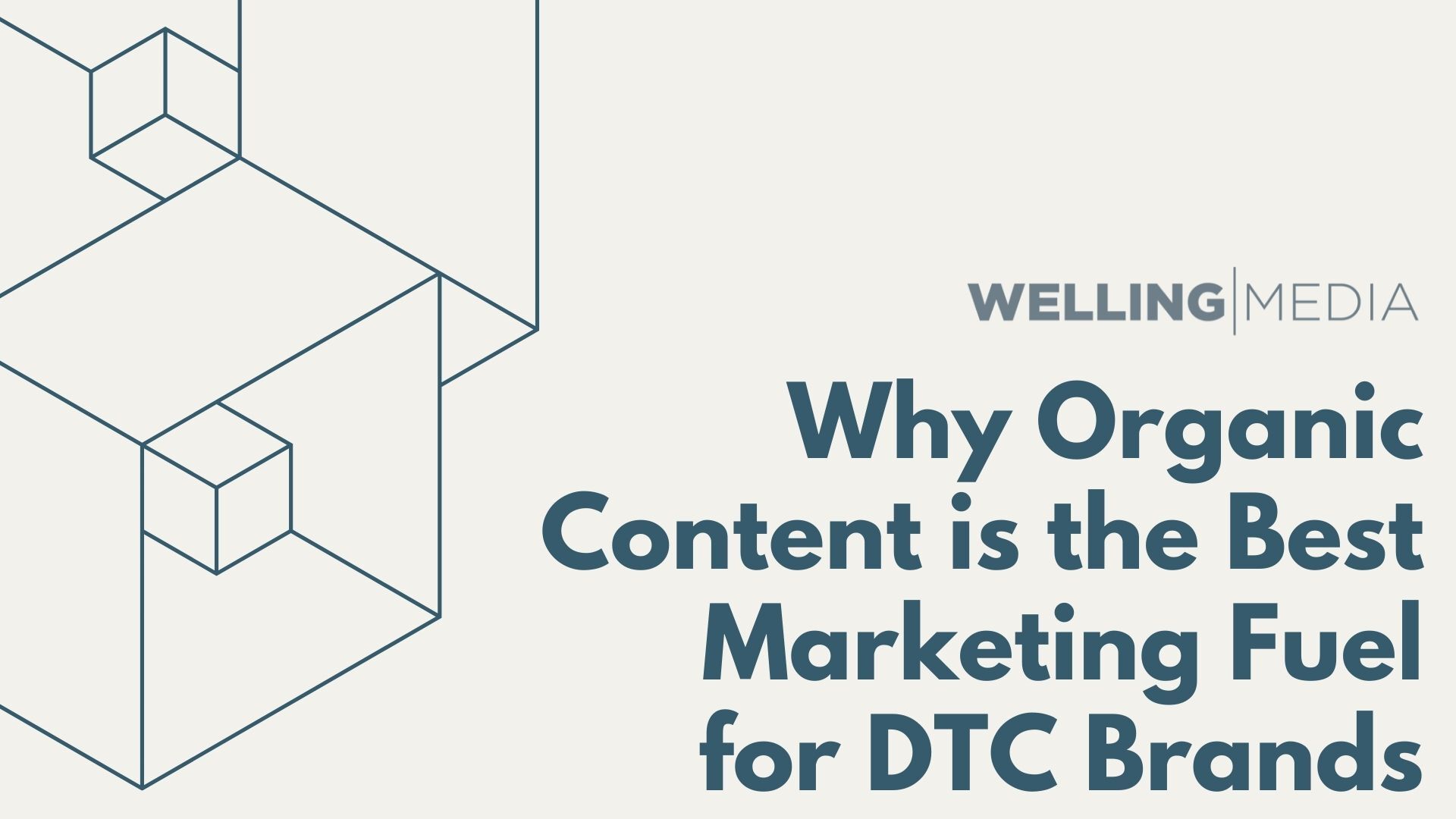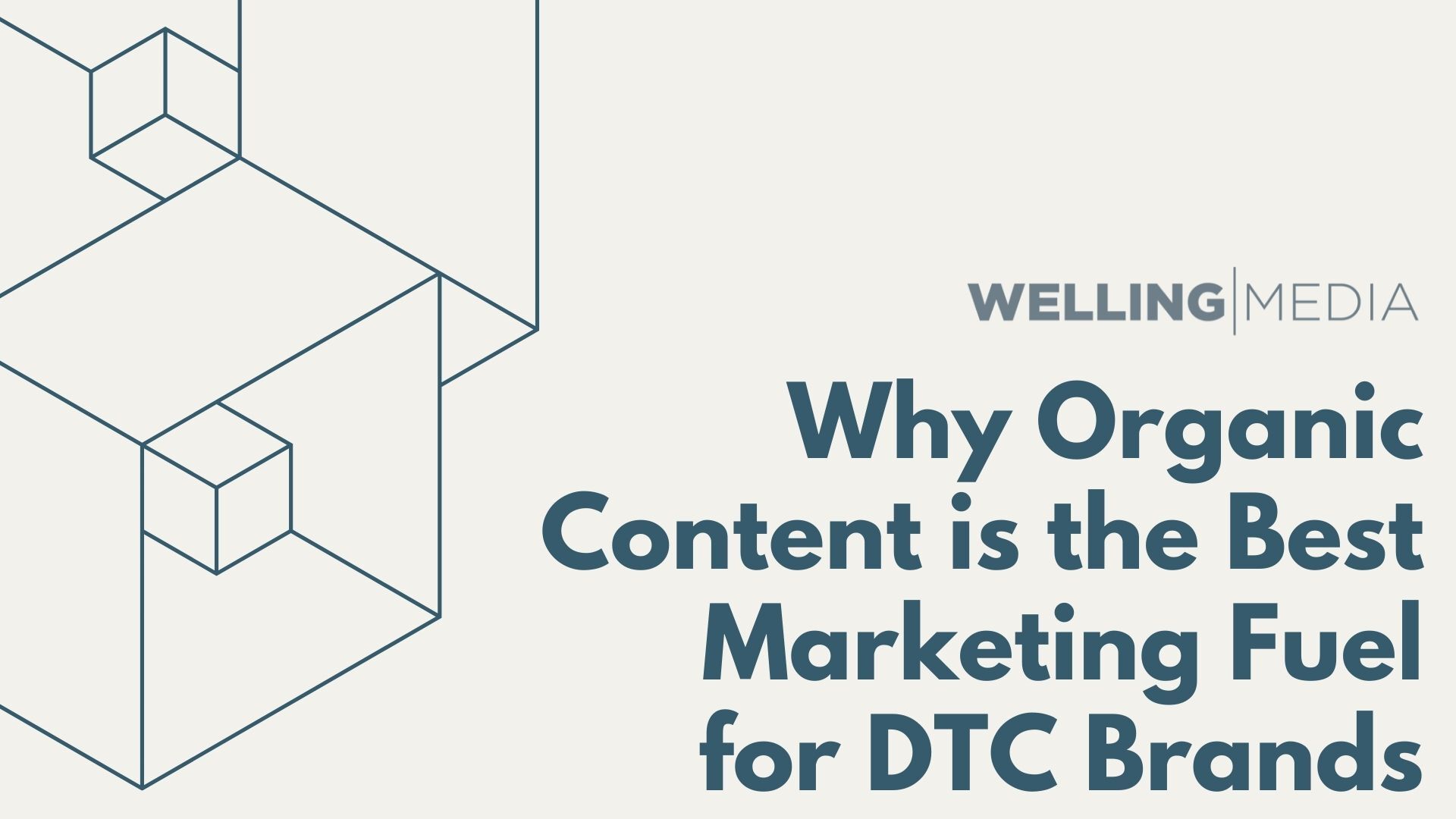 Some marketers think that organic content is dead for eCommerce and DTC brands. But that's just not the case. In fact, organic content is not only practical, but it's the best fuel for your paid campaigns.
Many eCommerce brands don't see value in organic content. One reason for that is that organic can be difficult to quantify.
Also, most eCommerce brands think organic content is like SEO. They think that it requires a heavy upfront investment with no immediate ROI. With the right strategy, however, that's not true. Organic content is quantifiable, and we know how to make it work.
Breaking Through the Algorithm
First, let's talk about social media algorithms as they pertain to your marketing. Posting frequency is a big part of how the algorithm sees your content. And a lack of content distribution is one of the major factors holding you back.
Most organizations think that posting once a day is enough to reach their audience. But if you only post once per day, the algorithm throttles your reach to an average of just 5%.
If you have 1,000 followers and only post once per day, you'll only reach about 50 people. Of that number, you'll be lucky to get more than 30 engagements.
Also, the algorithm shows your daily post to the same 5-10% of your followers each time. In other words, those same 50 people will see about 80% of your posts, and the rest of your followers won't see any.
So how do you break through the algorithm?
Two words: sheer volume.
If you want your organic campaign to succeed, you need to post 3-6 times per day on every social channel you use.
Facebook and Instagram are the primary focus, but this also applies to other social networks like YouTube and LinkedIn.
Increasing Your Audience Share
When you give the algorithm a larger volume of content, it's forced to spread that content out over a larger share of your audience.
In the short term, this will create a drop in your engagement rate, especially if you have few followers. (This is another point at which most people give up and assume that organic doesn't work.)
Over a few weeks of consistently high post volume, however, a larger portion of your audience will begin to engage. And because of that, the algorithm will recognize that more people want to see your posts.
At that point, you'll experience a snowball effect that raises your level of engagement exponentially.
If you have a large following already, this strategy will be especially effective. One of our clients, Eastwood Tools, had about 50,000 followers when we started working with them, but they were generating less than 500,000 impressions per month by posting once a day.
After just a couple of weeks of posting 4-5 times per day, Eastwood's number of impressions increased by 290%, and their post engagement increased by 370%.
In a 60-day report after implementing the strategy, Facebook showed an 85.5% increase in total engagements.
And on Instagram, Eastwood Tools recorded a 218% increase in engagements to go along with a 92% increase in impressions and a 39% increase in profile clicks during the reporting period.
Posting a higher volume of content helps brands break through the algorithm and reach new segments of followers.
How to Maximize Your Brand Through Organic Socials
Brand equity is the ultimate currency. And the first step in our strategy to build that equity is a giveaway.
This giveaway is the lifeblood of your organic strategy. And it'll be different than typical brand giveaways.
An effective giveaway will encourage your core audience to turn on post notifications, comment on every post, and like each post for the best chance to win.
Further, the best giveaway item is usually a free product, because your audience is following your brand for your products. Rewarding your audience with something they want is another way to ensure higher engagement levels.
Another key is to ask for genuine comments in relation to the post. You don't need a comment section full of random emojis or messages from spambots.
The success of each piece of content is based on the number of engagements it gets, how quickly it gets them, and the screen time that piece of content gets. If you can drive these numbers up, the algorithm will recognize your posts as valuable content. And if you can get more engagements and fast engagements, your reach will improve.
Generating Social Proof
Another essential benefit of generating comments with a giveaway is that it generates social proof. Real comments on every post from real people who are interested in your brand are insanely valuable — especially if you respond to them. 
That's another crucial part of the strategy — you must reply to every single comment. Facebook and Instagram's algorithms recognize pages that do this as a "best practice" and reward them with better reach and lower CPMs on the paid side.
Brands that only post once per day and don't respond to social comments will see negative effects that can include bad reviews, less engagement, lower average order values — or some combination thereof.
Organic Content Variations
Lots of brands think posting 3-6 times a day as a tall order. But there are lots of different types of content that you can use to vary your posts and keep your feed fresh.
A few examples of effective content styles are:
Product Flat Lays
Product Lifestyle
Lifestyle
Memes
Videos
GIFs
With this strategy in place, you'll have 90-180 pieces of organic content each month that will have valuable data attached to it.
How Organic Content Fuels Paid Campaigns
Most media buyers will start a campaign with 15-20 pieces of content and use the first few rounds of spending to get data and find out what works. 
In contrast, you publish so much organic content with this strategy that the algorithm effectively replaces that spend — and you've got enough data to identify winners based on engagements.
Sorting by engagement is important because we know that the algorithm values engagements and screen time. In other words, sorting by engagement ensures that you're looking at the highest performing content — content that the algorithm knows is a winner.
That said, organic content doesn't translate exactly to paid ads. You'll want to reformat your winning creative for ads by cleaning up the editing, adding text and a call-to-action, and other elements that promote conversion.
By using high-performing organic content on the paid side, we've seen an average CTR increase of 250% across 50+ DTC eCommerce accounts. That boost generates a one-point ROAS increase on average. (From 2x ROAS to 3x ROAS, etc.)
The quality of the content matters, but the volume matters too. And if you can put the two together and produce a massive amount of great content, you'll get quality data quickly and leverage that information to maximize your paid ads.
That's how Welling Media has scaled the brands we've worked with — and that's how you'll win in the DTC eCommerce space.
Put this Strategy to Work For Your Brand
If 2021 has taught us anything, it's that content is the biggest variable to success on Facebook and Instagram, but how that content is used is just as important.
Historically, we've limited social management for our top clients. But lots of brands have a major need right now and our team can handle more, so we wanted to throw out an offer that's hard to refuse.
No outsourced VAs, no bullshit automation. Real work done by real employees out of our office in Nashville Tennessee.
$2,000/mo
2 Feed Posts/Day
Caption Copy
Comment Management
1 Story Post/Day