7 Product Announcement Emails & Why You Need Them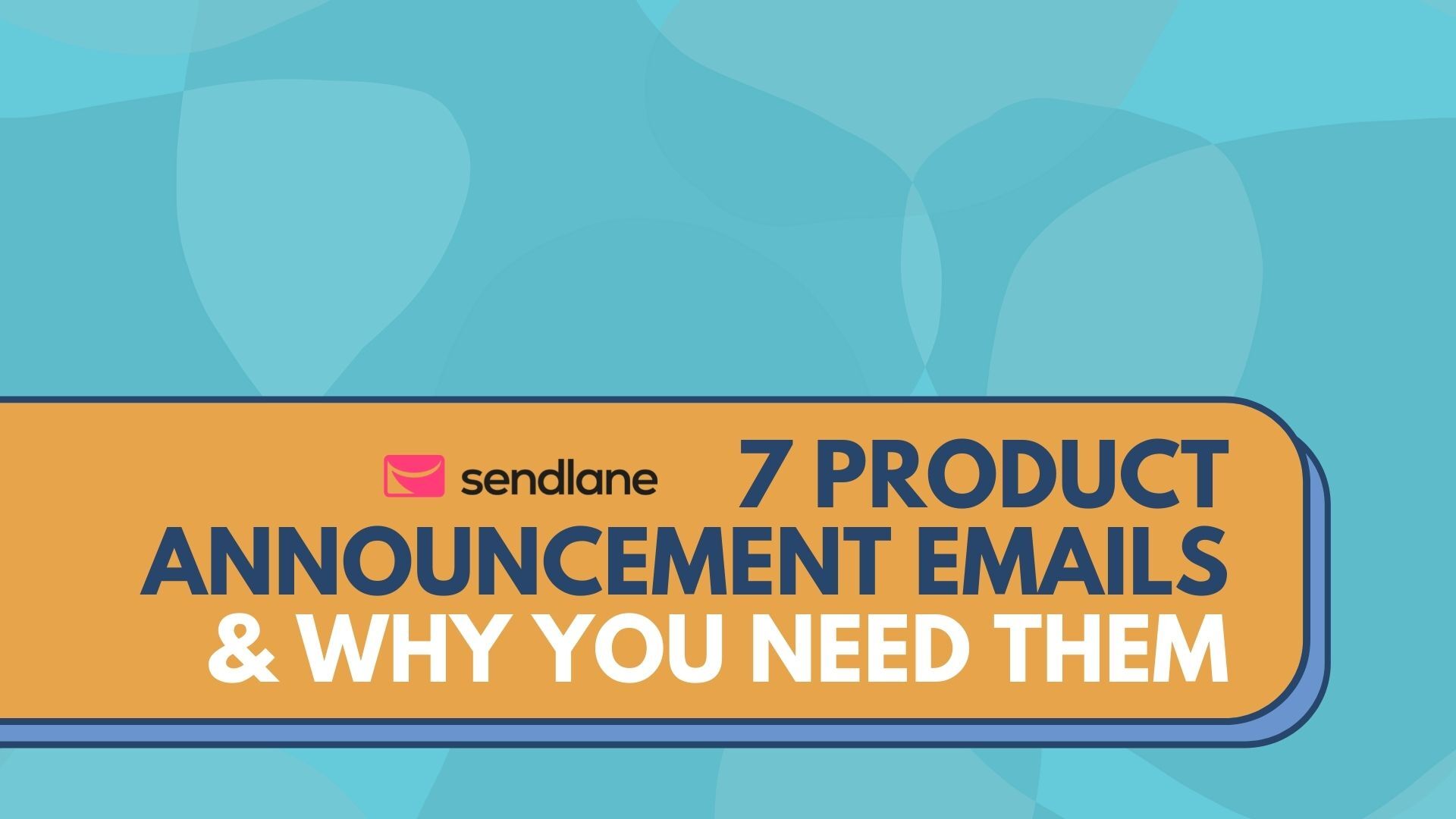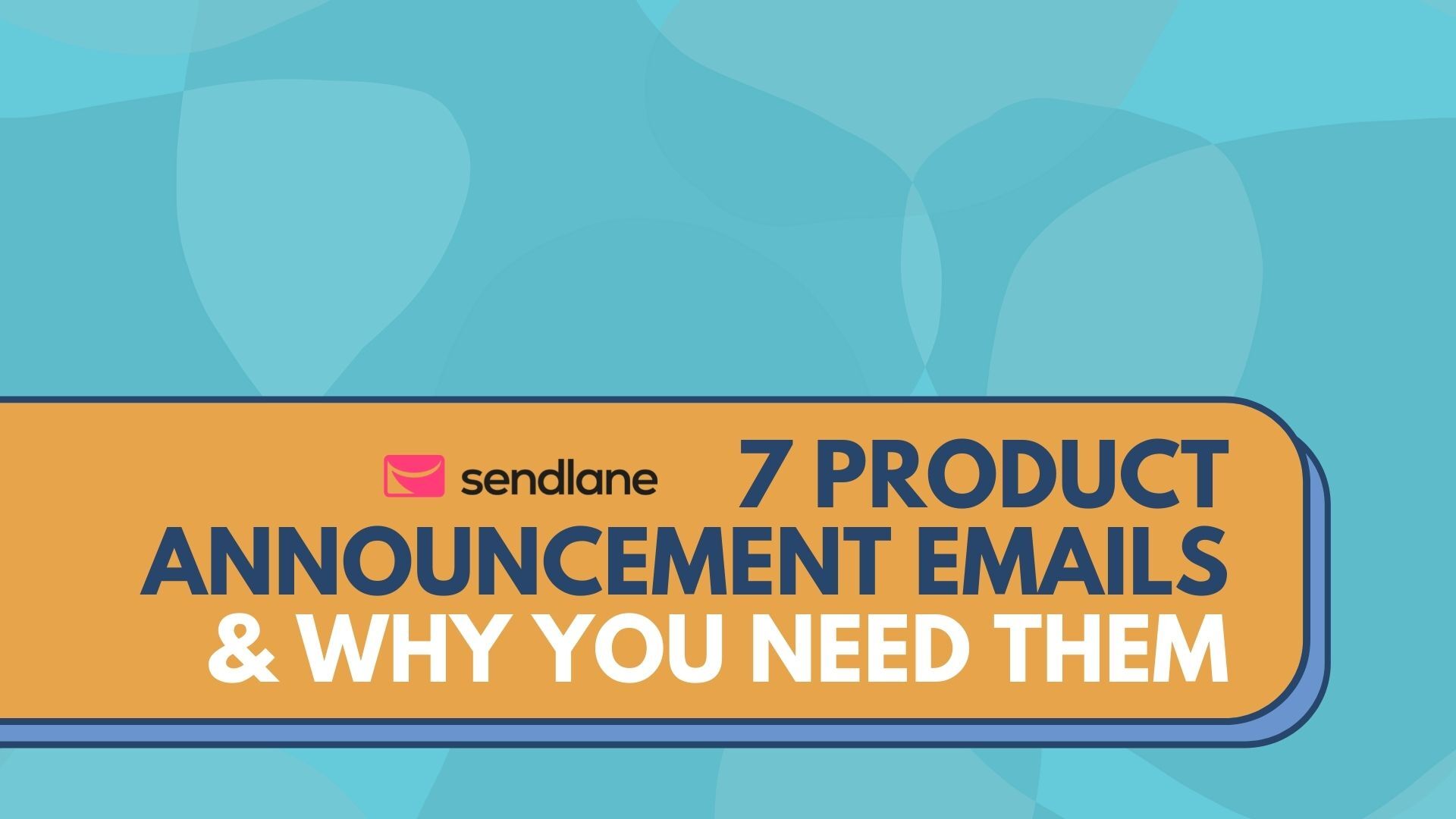 When you're designing and developing a new product, it can be easy to forget about one of the most critical steps in your rollout — preparing to market your product.
This isn't uncommon. In fact, research by Harvard Business Review found that 80% of new products fail for this exact reason.
But you and your products don't have to go down that road. After all, you're here! And we'll tell you how to create product announcement emails that will have your target audience beyond excited.
Where to Start With Product Announcement Emails
Just so we're clear, product announcement emails are messages you send to subscribers to tell them about a new product, feature, promotion, event, webinar, app, or website.
Let's start by examining a new product launch email sequence, and then we'll review some top-notch product announcement emails and highlight what they did right.
Writing an Email Sequence For Your Product Launch
You probably love your new product. You put in a lot of time and effort to bring it into this world, and you're ready to watch it take the world by storm.
The bad news, though, is that your customers don't care.
That's why you have to give them a reason to care. Shoppers are selfish creatures. Your product launch has to be all about them if you want to capture their attention.
More specifically, it has to be all about their pain points.
You can hook them by telling them how you'll fix their problems. Then you invite them to buy with a strong call to action (CTA).
Most of the best product announcement emails hit these benchmarks. So, in each example, we'll examine:
What's working in the email
Why the email makes shoppers care
Effectiveness of the CTA
1. Launching a New Product
If you're looking for a good example of branding and product announcements, Apple is hard to beat.
Their product development team regularly discontinues "older" products just to hype buyers up for slightly newer versions of that product.
Here's an example:
What's Working In This Email?
Apple creates a textbook example of how to announce a new product in this email.
The headline states the offer while the supporting copy adds scarcity ("Limited Time") and an incentive ("Trade in your current iPhone and upgrade to a new one").
There's also beautiful product photography and various other upsell and cross-sell offers to choose from.
Why Will Shoppers Care?
Apple is known for its intense fan base, and this email speaks directly to that audience. If you believe that your life will be improved by owning the latest and greatest Apple product, this email is just for you.
Is The CTA Effective?
This email doesn't have one CTA. It has 10.
That's 10 opportunities to learn more, buy, shop, order, or download. Finally, the CTAs, copy, and design are minimal, which fits with Apple's design aesthetic.
2. Announcing Upcoming Events
When you host or sponsor an event, you want people to come.
Email marketing is a great way to spread the word — especially if you have a large email list.
Check out this urgent last-minute offer from Joint Futures:
What's Working in This Email?
There's a lot more to this email than just an event announcement. This message uses "last chance psychology" to draw prospects to the event.
The discount and "Today Only!" copy at the top of the email don't hurt either.
Why Will Shoppers Care?
Again, the scarcity and urgency in this email's copy are dialed up to 11. The first paragraph ends with "...this is the best & last deal we can give you!" The email text doesn't even have time to write the word 'and' — there's a '&' in there instead.
Is The CTA Effective?
The CTA works, and the secondary CTAs are useful too. Users can review the event schedule again to see if the program is worth their time, and there's a referral link to share the discount with others.
3. Sales & Promotion Announcements
Are you building hype for Black Friday or pushing a summer sale? If so, you're going to want some promotional emails in your marketing mix.
Look at how Bose preps its audience for Black Friday:
What's Working In This Email?
This email works well because it combines a mysterious "scratch-off" incentive with Black Friday, the biggest sales day of the year.
Why Will Shoppers Care?
It's secretive. It's engaging. And it's exciting. What's not to like?
Is The CTA Effective?
The call to action is purposely vague, but the email copy and offers below it give the recipients clear indicators of what's on offer. Bose wants your Black Friday attention, and this email does a good job of grabbing it.
4. Limited Edition or Pre-Order Product Announcement Emails
A good pre-order email can scratch a few different itches for your customer list.
You can use them to tell your best customers that new products are coming, lead prospects through the buying process, and even forecast sales.
Here's an example of a pre-order email from Taylor Stitch that you can emulate for your own campaigns:
What's Working In This Email?
The giant photo at the top of the email makes it pretty clear that they're offering new shirts. And the first line of the copy says "New in Stock," which also helps.
Why Will Shoppers Care?
These shirts are made for cold weather, and most of us prefer to get new cold-weather clothes before it actually, y'know, gets cold. And, of course, FOMO is one of the most effective sales tactics around.
Is The CTA Effective?
This email saves the "Shop Now" button for the bottom of the email — but the clickable shirt images connect directly to that particular product, which is an effective way to have users enter the sales funnel a bit closer to the final conversion.
5. Official Mobile App Launch Announcements
Mobile commerce is taking over digital shopping. Consumers love to shop, browse, and play via mobile apps, and the apps themselves are becoming more robust, which makes it easier for users to complete in-app conversions.
If you are launching an app or an update to your mobile experience, tell your subscribers! Grammarly does just that in this example:
What's Working In This Email?
Grammarly is launching a new version of its mobile app for iPad. The copy calls out a user's pain point immediately ("Away from your computer?") and explains how the new version of the app will address it.
Why Will Shoppers Care?
Grammarly makes it clear that it's easy to keep using its features and insights when you're offline so that your writing will continue to look professional and error-free.
Is The CTA Effective?
There are two clear CTA buttons in this email that ask users to "Download on the App Store."
This is a mobile-friendly best practice for email marketing, as it empowers mobile device users to take action without scrolling to a new screen.
6. App or Website Update Announcements
On one level, product announcement emails are all about you and your offer. On another, however, you still have to answer that eternal customer question — "what's in it for me?"
Improving your app's user experience is a great opportunity to email your customers because you're answering that question directly. If you're launching a new website or app functionality, let your customers know.
Let's look at this email from Peloton:
What's Working In This Email?
Peloton is a fitness brand with a fan base that borders on fanatical. If there are new opportunities for users in the app, those users are going to want to know about them.
Why Will Shoppers Care?
Existing Peloton users don't need to hear about pain points. The brand can use excitement as an effective tool for engagement.
Is The CTA Effective?
The primary call to action, "Join Now," stands out because of the red button color on a largely black email. The secondary CTA, "Find Out How," supports the copy immediately above it and also stands out with a dash of red.
7. New eCommerce Stores and Beta App Announcements
If the last few years have taught us anything, it's that change, either based on desire or necessity, is inevitable.
The pandemic forced many companies to move from wholesaling to a DTC model, which resulted in lots of new eCommerce storefronts.
Others looked to connect with consumers by beta testing new apps.
Here's an example of a beta test announcement email from Stripe:
What's Working In This Email?
Stripe's email acknowledged that the user signed up for the beta test and used this email to introduce the available features and functions.
The content is basic, but given that the user has already signed up for this opportunity, there's no need for a hard sell.
Why Will Shoppers Care?
Again, this email is for people who have already opted-in. If your audience is excited about your latest offer or if you're looking to beta test something too, don't forget to provide an opportunity for feedback like this email does.
Is The CTA Effective?
The "Get Started" call to action is straightforward, and the link to Stripe's integration guide is a useful inclusion too.
Introducing New Products to Customers with Emails
Now that you've seen what the components of an excellent product launch email sequence can look like, you probably feel ready to start introducing your new products to your customers.
But where do you start?
The most effective option is to set up an automated email workflow with an eCommerce email automation tool.
There are several ways to set up an automated workflow, and the emails you end up including in your workflow will depend on your company. However, here is an idea of what a product launch email sequence might include:
Product Teaser Email (5-7 days before launch)
Product Announcement (2-3 days before launch)
Product Launch (day of)
Follow-Up (2-3 days after launch)
If you're using Sendlane, the sequence will look something like this: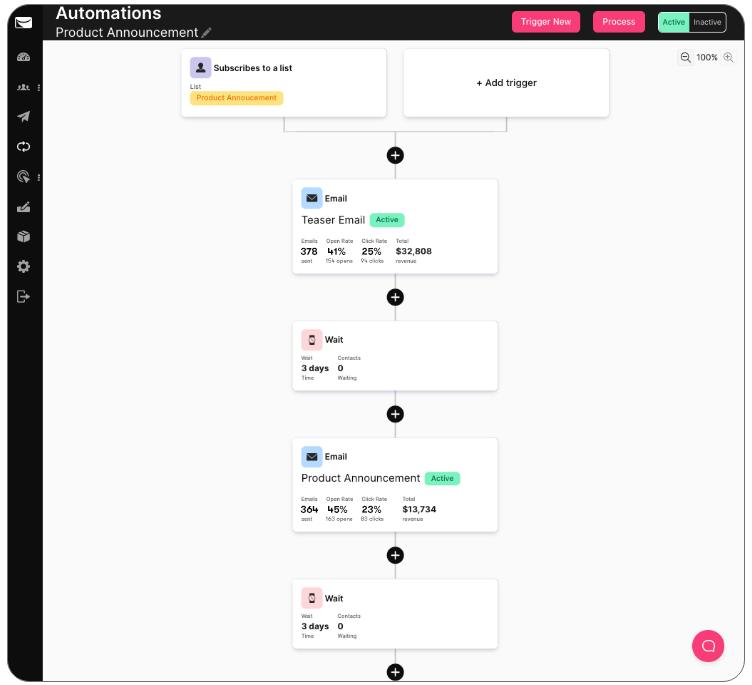 Build Your Product Announcement Emails in Sendlane!
Remember, marketing your products is as important as creating them. And email marketing still produces higher returns for digital marketers than social media.
If you're ready to launch your new product, you can set up your first product release email campaign in Sendlane. Start with a 14-day free trial now!