5 Social Media Trends Marketers Should Know About in 2022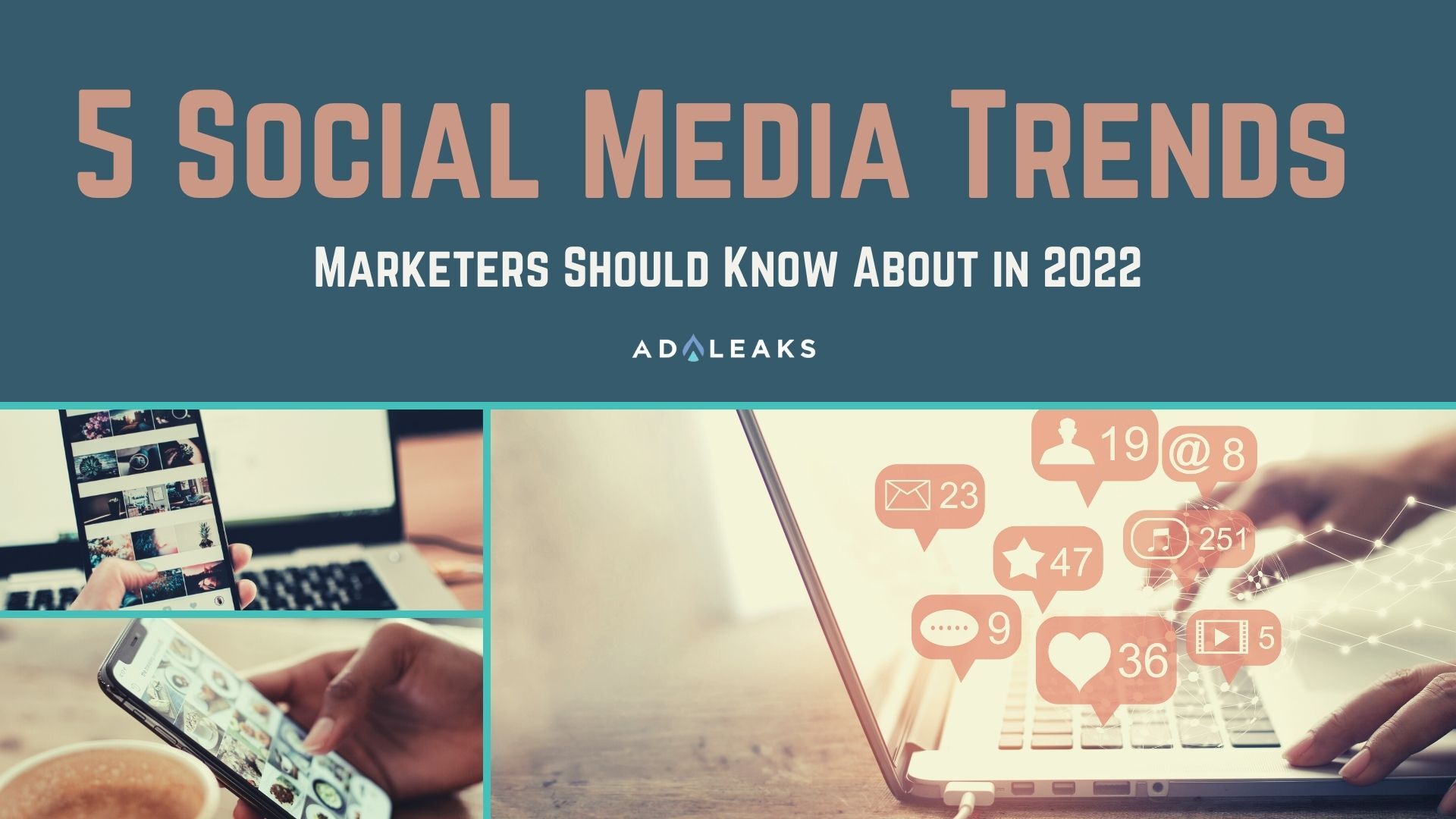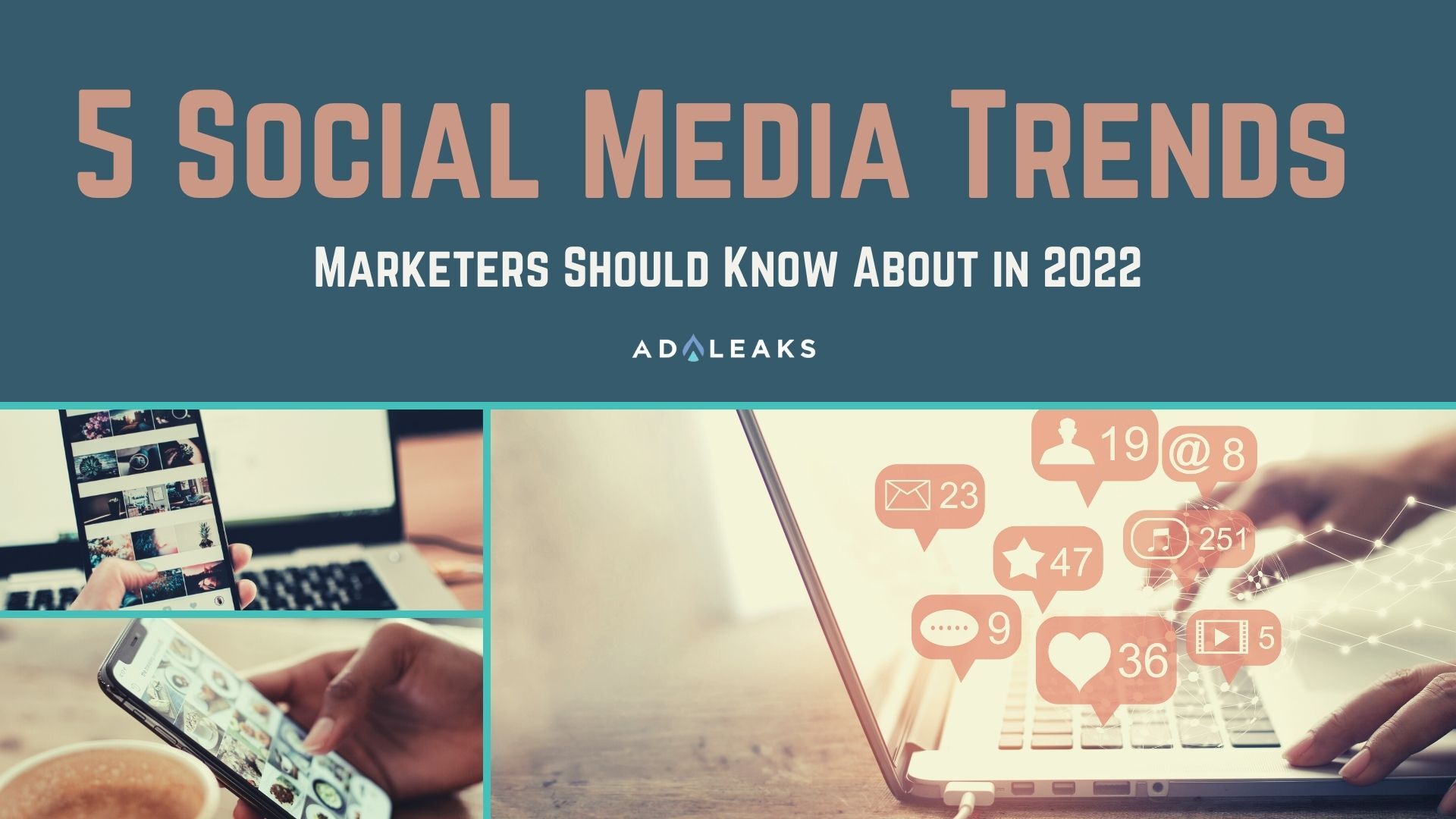 The marketing world is evolving rapidly, which can make it nearly impossible to keep up with all of the new social media trends. 
If you remain diligent, however, you can stay well ahead of your competition in the marketplace.
In 2021, we saw just how quickly the marketing industry can evolve. In the last year, marketers embraced digital transformation more than ever as they adapted to constantly changing virtual and hybrid business landscapes during the COVID-19 pandemic.
Then, as countries cautiously reopened and more consumers left the house, some businesses saw slumps in the virtual engagement and online traffic they'd recently relied on.
5 Social Media Trends for 2022
If there is one constant that isn't going anywhere in 2022, it's Social Media Marketing. The importance of remaining relevant within this realm will either make or break your brand.
If you are meticulous in abiding by the following 5 social media trends for 2022, there is no doubt you will remain a leader in your industry.
1. Diversifying Your Social Channels & Campaigns
As marketers discover the dismal future of Facebook marketing, with an average reach of 5.2% for organic posts and an engagement rate of 0.25%, seeking alternative platforms will become a necessity. 
An incredible alternative will be TikTok, as it has come to dominate the social media space. TikTok has just reached 1 billion active monthly users worldwide, which is as many as Instagram has had for several years. 
Top performing content includes footage of campaign shoots, influencers unboxing products, lip-syncing to relatable sounds, and employees having fun on the job.
People come to TikTok for lighthearted entertainment, not produced video. Luckily, lo-fi short videos are easy to film considering all you need is your phone.
2. Influencer Marketing Will Continue to Grow
Specialized influencer marketing will rise. This will include influencers with potentially smaller but more engaged audiences, as well as influencers who specialize in more niche topics that make the most sense for your brand. 
Influencers that have fewer followers but more of a focused market will become the rising stars. It will come as no surprise that the more money brands invest in influencer marketing, specifically in their niche market, the more important the ROI becomes.
Quantifiable data is just as integral here as it is in any other channel to both achieve higher returns and to track the returns you do get.
As an expert marketer, if you are not constantly tracking the data, you have no verifiable evidence as to whether your efforts are benefiting your agenda.
3. "Reels" are For Real
Reels contribute to overall Instagram marketing success! ​​Many have compared Reels to TikTok, with some suggesting Instagram's latest upgrade aims to compete with the growth of the popular video-sharing network.
In 2022, Reels should play a crucial role in your business' marketing strategy.
Consumer expectations are evolving, and the one billion monthly active users on Instagram have already embraced Reels. Invested users can access the never-ending Reels feed on the Explore page by tapping the Reel at the top of the screen.
Keeping up with consumer expectations is crucial to maintaining your brand's relevance and success, especially if your target audience includes millennials and Gen Z.
4. Mobile Audiences Are Your Primary Target
The fourth Social Media Trend for 2022 is focused on what you're probably looking at right now — the smartphone.
Today, Americans spend about seven hours each day looking at a screen each day, and most of that is on a mobile device. Mobile-First Marketing is breaking down the barriers of anything that is desktop-related. Also, more than 75% of video views are mobile.
Mobile has become a top priority for consumers and marketers alike. Ten years ago, you could find a crowded shopping mall with bustling kiosks and in-person shopping. Today, with the click of a button, you can order groceries, pay a bill, and watch a funny video, all at the same time.
Your brand must cater to this audience, which means adjusting your marketing for users who are constantly on the go. If your post or ad doesn't capture their attention within seconds, you will be 'swiped up' to the next best thing — which could be your competition.
5. Build a Community Around Your Brand
The final trend to be aware of as we approach 2022, is to ensure that whichever platform you are leveraging to build your audience, make certain that you are also building a community around your brand's intention.
Social media helps consumers decide which brand is relevant to them by the community that is the driving force behind the brand.
Witnessing how friends and influencers react to a brand will be the telling sign. Cancel Culture is a result of the wrong move being dissected among many platforms that can result in the death of a brand. 
The positive side, however, is that focusing on movements that resonate with the brand and its core community can help empower the brand through all social media platforms.
While taking all of the aforementioned into consideration, your main objective should be to optimize your brand's presence on your most-effective channels before you start experimenting elsewhere.
Staying aware of these trends and the competitive landscape will help brands build closer relationships with their target audiences and earn their trust to grow and thrive in the coming year.
Looking for more information about social media trends in 2022 and beyond? Click here to join AdLeaks now!