How You Can Make the Instagram Algorithm Work for Your Brand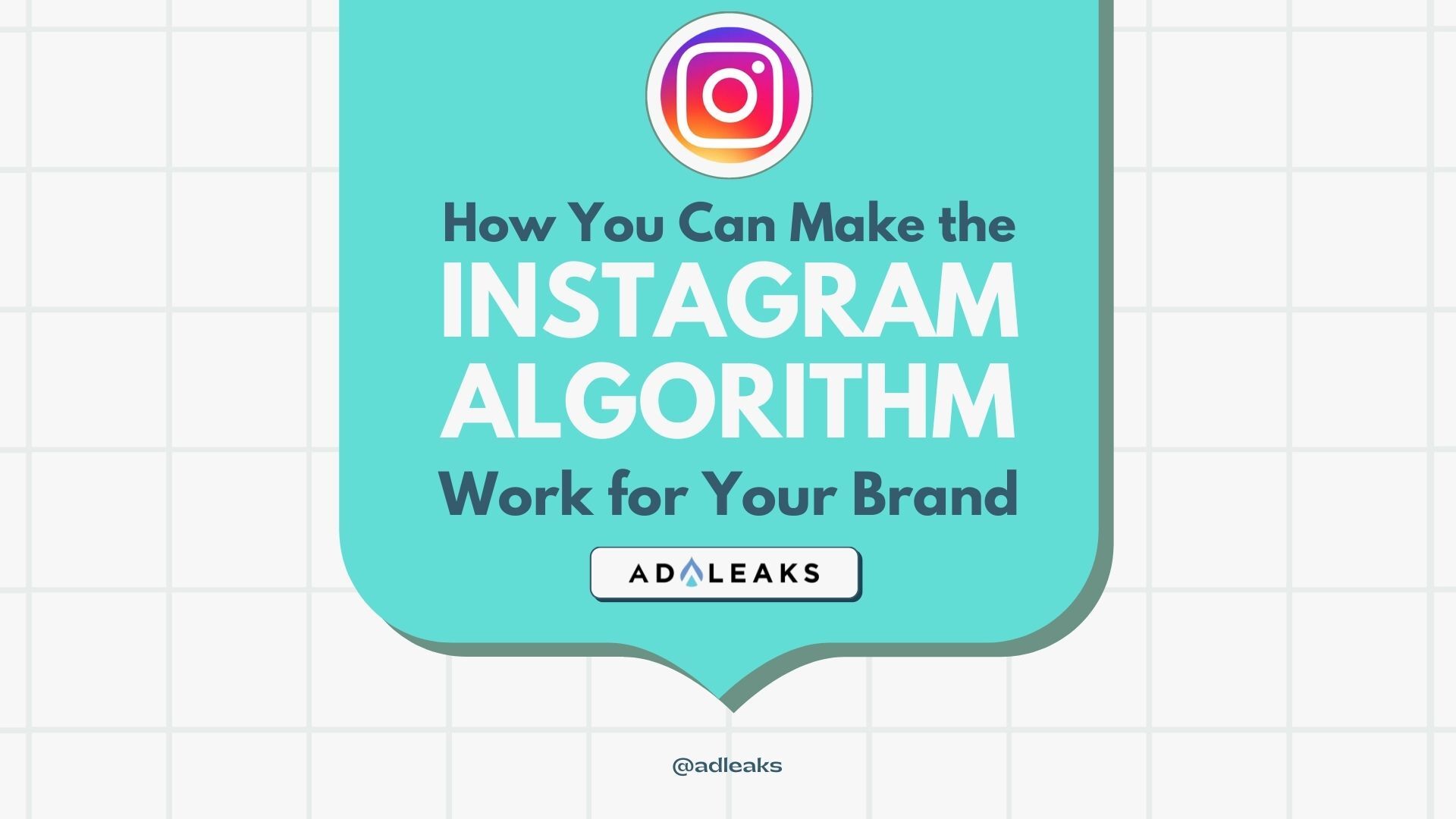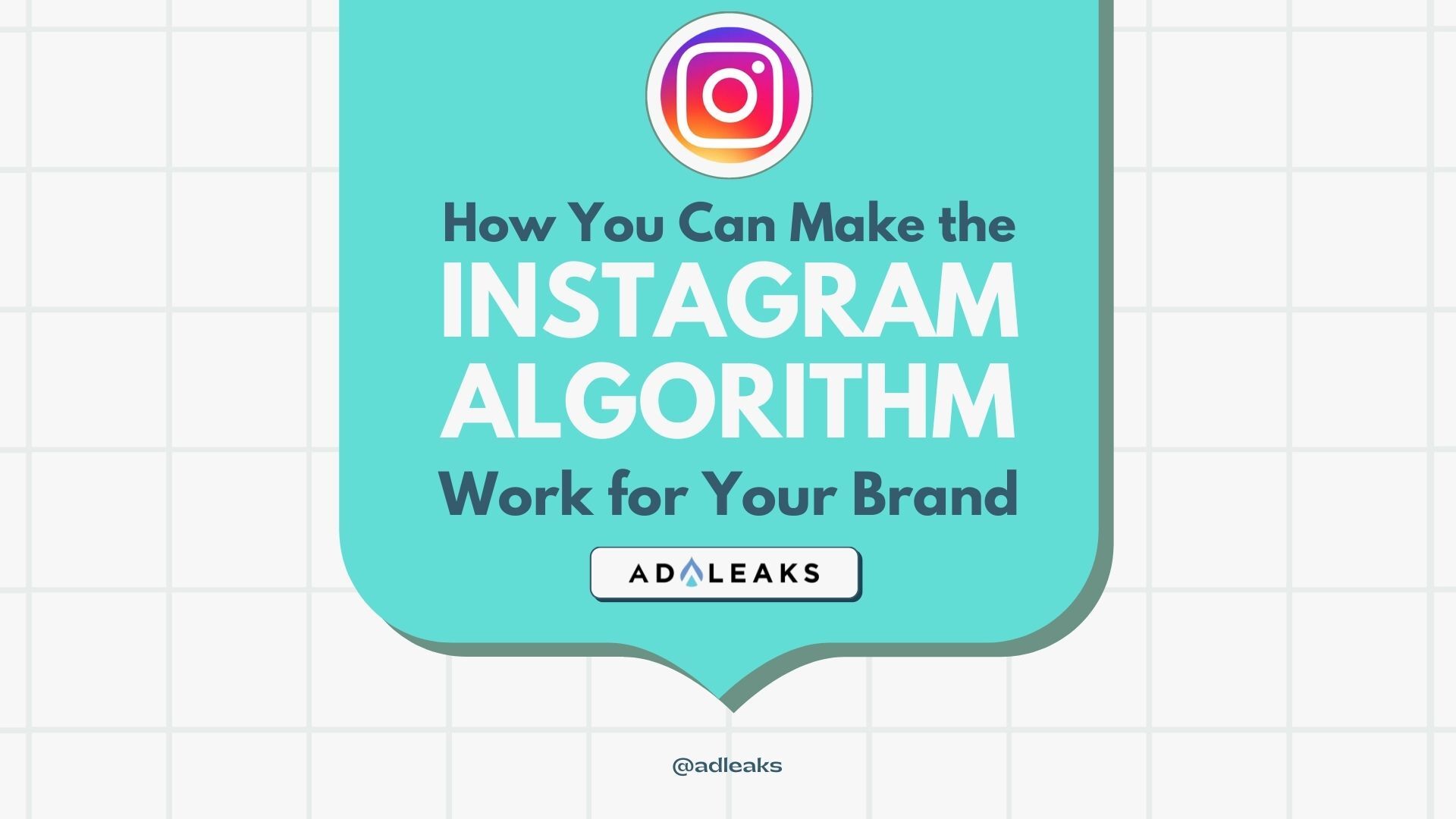 Editor's Note: This is an excerpt from our Instagram Mastery eBook. For the complete ebook (and many more!), click the link to Join AdLeaks now.
The Instagram algorithm has changed a few times in recent years. But why?
Instagram found that people were missing, on average, about 70% of the posts in their feed. And they changed the algorithm so that people would see what's most relevant to them rather than what's most recent.
And for a lot of brands, this meant engagement went down. Again, why?
Because now, the Instagram algorithm shows users high-engagement posts first.
Why the Instagram Algorithm Prioritizes Engagement
The sole purpose of Instagram is to keep users on the platform longer. And while they claim to care about the user experience, the real reason for the change is that when people stay on the platform longer, Instagram generates more money.
Instagram's analysts realized that showing users posts in chronological order is less effective at keeping them on the app than showing people the most highly-engaged content first.
So that's what the algorithm does now. It serves users posts they are most likely to engage with first.
Let's break down this change from a brand's perspective:
Post: You post the content.
Measure: The Instagram algorithm shows the post to a small percentage of your total followers within the first hour to measure how quickly and how much they engage with that post.
Compare: The algorithm compares this preliminary data to your previous posts on similar days and at similar times.
Placement: The better your post performs in the first hour relative to previous posts, the higher in the feed it will appear and the more likely it is to appear on the Explore page.
Prediction: The algorithm predicts the likelihood that your followers will engage with the post in comparison to other accounts they follow. This works to display the posts it thinks the user will engage the most with.
It's actually not true that Instagram 'limits' your posts. Your post will appear in each of your followers' feeds, it just might be really really far down depending on how likely the algorithm thinks users are to engage with it.
How Does the Instagram Algorithm Decide What Appears in Your Feed?
There are three major factors that determine what shows in a feed.
1. Interest: How Much You Care About a Post
The algorithm predicts how much you care about content. If it thinks you'll like the content of a post, that post will appear higher up in your feed.
This is determined by a few data points, including:
What content you've engaged with before
Accounts you've followed
Posts you've clicked on in the Explorer Feed
For example, if you start liking dog photos, your explorer feed will inevitably feature doggo posts. The algorithm is trying to give users the content they want to consume.
2. Timeliness: How Long Ago a Photo or Video Was Posted
The algorithm wants to show you posts that are recent because they are often the most relevant.
Something posted last week might not interest you as much as something posted an hour ago, so Instagram will likely show you more recent posts rather than posts from a few days or weeks ago. So while the feed is no longer chronological, the timing of your post is still relevant.
3. Relationships: How You Engage With Accounts
Of the accounts you follow, the ones you interact with most will get priority in your feed.
The algorithm is set to believe that the accounts you like, comment, and message are most likely your friends, family, and accounts you care about. Therefore the content these accounts post will appear higher in your feed.
Account search is another data point Instagram takes into consideration when ranking posts in your feed.
When you regularly search for certain accounts, it assumes you are interested in that account's posts and might not have seen them on your feed. Instagram will then rank that account's posts higher in your feed to improve your Instagram experience.
While these are the most important components, three other factors also play a smaller part.
4. Frequency: How Often You Open the App
Every time a user opens Instagram, the algorithm aims to show the best posts (according to that user) since their last visit. If you only open the app every three days, for example, you're only going to see relevant content for those last three days.
If you open the app every single day, you're going to see more content and therefore a broader spectrum of content.
5. Following: How Many People Are You Following?
If you follow thousands of accounts on Instagram, the algorithm has to sort through more content in order to decide what to show you each time you open up the app.
6. Usage: The More You Use, the More You See
The way that you use Instagram will affect what content you are shown. The more posts you see, the more the algorithm will dive into the catalog to show you more relevant content.
5 Tips to Manage Instagram Like a Pro
There are a lot of ways to grow your organic Instagram following, but don't feel overwhelmed. Start with what is feasible for you, and focus on these basic steps.
1. Post High-Quality Content Consistently for the Instagram Algorithm
Remember, Instagram allows you to form person-to-person connections. Keep track of which content is getting the most saves, and post more of that.
Saves will also boost your Instagram algorithm ranking and get you higher up in more feeds.
2. Network With Other Accounts in Your Niche
You want to target accounts in your niche with more followers than yours.
If you don't know where to begin, a simple direct message to that account should work. You can thank them for their content or provide some value. We also recommend reposting and tagging their content in your stories.
3. You Have 30 Hashtags - Use Them!
Make sure that the hashtags you use are relevant to your content, and avoid really popular hashtags.
Categorize them into blocks of 10 and save them for re-use.
4. Use Stories to Boost Engagement, Drive Action, and Add Value to Your Followers
Creating consistent and compelling Instagram Stories will hook users on your content. Think of Stories as an opportunity to create your own personal reality TV show that builds a cult following.
5. Engage With the Content of Your Ideal Customers
Watch other accounts' Stories, especially accounts that have your ideal customers in their audience. Review hashtags in your niches and anywhere your ideal clients hang out.
Also, when you comment on content, don't just say "awesome post". Make it relevant and meaningful. And finally, be sure to thank the poster. Manners are even more important in the digital space.
For the rest of the Instagram Mastery eBook, join AdLeaks today and read the eBook in the AdLeaks Vault!